© Lisa Shara; Published in North State Parent January 2014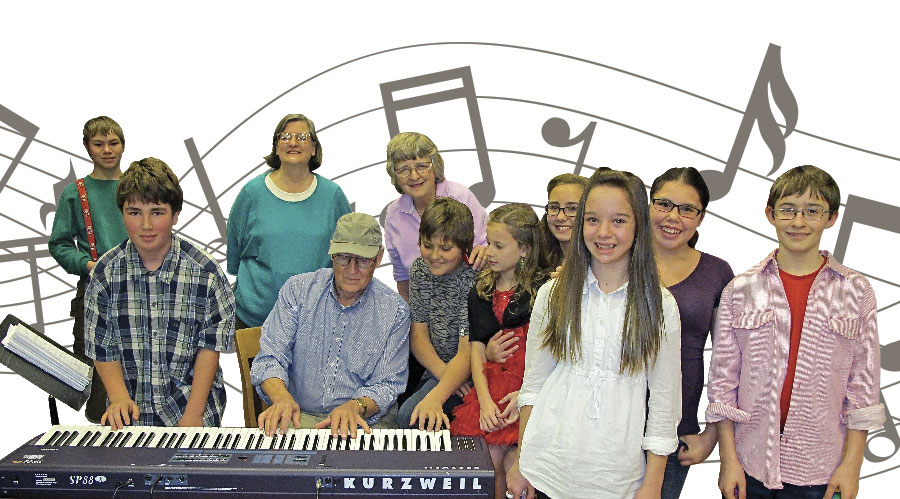 McCloud is a small rural town on the southern slope of Mount Shasta. It's also an exemplary model of promoting arts in education – each year the town proves that communities and educators can work together to keep music alive in public schools.
McCloud Elementary School, in collaboration with arts non-profit Young Imaginations, provides music education to its student body of approximately 85 children. Principal Shelley Cain makes sure time is scheduled for weekly music classes. Students in grades 4–8 attend choral classes, and many also attend an after-school SAFE instrumental program designed for their age group. For its younger students, ages 3-8, classes are based on Kodály and Orff methodologies and introduce children to singing, playing instruments, and the mysteries of reading music.
At McCloud's high school, music education includes a class where students learn piano/keyboard skills and music literacy; additionally the school has a student rock band, led by staff member Jeffrey Westcott.
To foster these music components while raising students' skills to a next level, additional class sessions are scheduled throughout the year under the direction of Dr. Marianne Locke, co-founder of Young Imaginations, a California non-profit organization for arts education that provides multicultural music and dance classes to about 6,000 children annually in Northern California schools.
"The mission of Young Imaginations is to place the arts at the core of the educational process," Dr. Locke explains. Young Imaginations is the creative force and support behind the McCloud schools music programs. Along with Dr. Locke, Young Imaginations specialists Mark Russell (choral and instrumental instructor for grades 4-8), Jean Miller (music instructor for the early childhood program and high school), along with teacher/accompanist Jerry Moore, all work collaboratively with McCloud Elementary School's staff and principal.
The school's choral concerts, instrumental programs and plays are highlights for families and other community members, taking place in winter months and near the end of the school year, as well as at town events. Classes and performances are designed to match the students' interests and skills, while meeting the goals of the national Common Core Standards.
Dr. Locke feels that all children deserve music education. "Every child deserves to experience how creativity enriches all avenues of learning, and to develop knowledge and empathy by experiencing cultural richness through the arts," she says.
The future of music in the lives of children is a shared responsibility, suggests Locke, and McCloud certainly exemplifies a shared commitment between its community, schools and the Young Imaginations program, to make the arts a priority in education.
Like many schools, McCloud Elementary has faced budget cuts and can only fund approximately 25% of the costs of its arts programs. The McCloud community steps up to make up the difference, each year raising approximately $12 thousand, primarily through fundraising events coordinated by local volunteer Darlene Mathis of the McCloud River Mercantile and Hotel, the McCloud Chamber of Commerce, and other local businesses.
[sws_pullquote_left] "In order for any group to play and sing together, it must work together, cooperatively, toward a common end. Music classes use the language and the songs of our common heritage. This develops the foundation and skills that enable children to experience the pleasures of making music themselves with a group, and the understanding to read and write music. In an ongoing school program, this is built week by week, year to year, as the children experience music in their voices and hands and hearts." -Jean Miller, McCloud Elementary School music teacher. [/sws_pullquote_left]
Additional help for the school's music program has come in unexpected ways. A 2012 grant from The McConnell Foundation allowed for the purchase and installation of a state-of-the-art sound system for the school's gym, where performances are held. And, uniquely, an out-of-the-area group of conference attendees visiting McCloud learned about school's innovative music focus and was inspired to raise enough reserve money to cover three months of programming. This gift has helped insure the elementary school's music program can begin each year, by covering costs until local fundraising replenishes the reserve.
"Music isn't an extra," insists Dr. Locke. Community efforts help ensure that children will continue to experience the arts, helping students gain self-confidence and the ability to work cooperatively with others. And surely the dedication of all involved with keeping the arts central in McCloud schools shows students, by example, that anything is possible, even in the face of challenges.