© Lisa Shara; Published in North State Parent, May 2014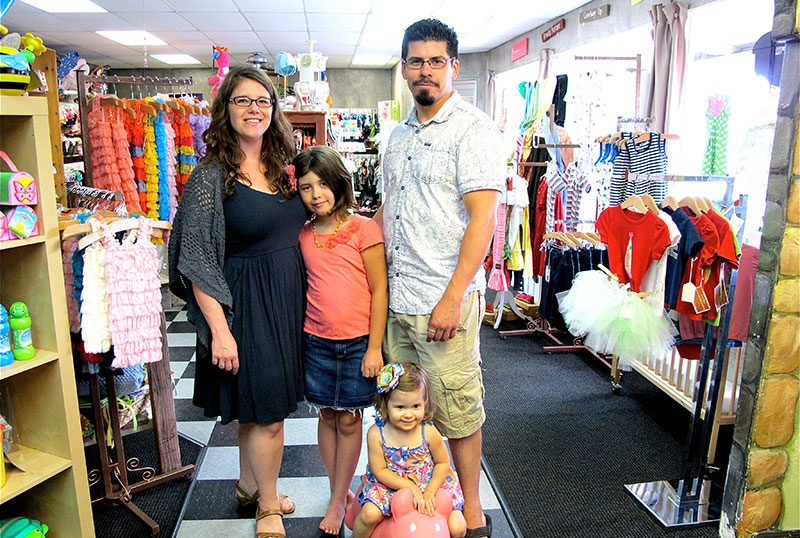 As with many other small business owners, it was family – their own and others – that motivated Darci and James Crossin to create Apple Blossom Baby, located in Chico. "We wanted a local place that sold everything we had to order online," explains Darci. "Since we couldn't find one, in a sleep-deprived moment, Apple Blossom was born!"
Apple Blossom Baby offers new and quality resale items for children up to size 10, a maternity selection that includes great new bras, new and used baby gear and furniture, an amazing selection of new shoes, locally made treasures, wooden toys, and an ever-changing selection of fun things.
Interested in learning about contemporary cloth diapers? Apple Blossom offers classes on the topic. Intrigued – but perhaps intimidated – by the variety of cool ways to "wear" your baby? Take a baby-wearing class. You'll meet other moms and dads in Apple Blossom's classes, as well as at their weekly circle times for parents and babies. "We are always looking to open our space to members of the community who would like to share their experience and knowledge with others," says James.
"The best part about a family-run business," shares Darci, "is that even if we only get to smile at each other in passing, we are together doing something we love." She adds, "There are six family members involved, although we pretty much adopt anyone that holds still long enough!" They share the work as a team, from helping a new family prepare for their little one, to mopping the floors. Daughter Kyra, age 9, helps hang clothes and organize, and can offer great information about which toys are "cool." The two not-so-helpful toddlers in the family excel at taking clothes off hangers and reorganizing in their own special ways.
The Crossins are grateful to the community for embracing their efforts and helping Apple Blossom Baby grow from little more than an idea to the awesome place it's become. The Crossins help different schools with their fundraising efforts, and donate to several community organizations that support families in need.
Stop by and find out why many children have taken to calling the store, "Awesome Blossom," a well-deserved and high compliment indeed.