© Lisa Shara & Sonia Giordani-Johnston; Published in North State Parent, November 2014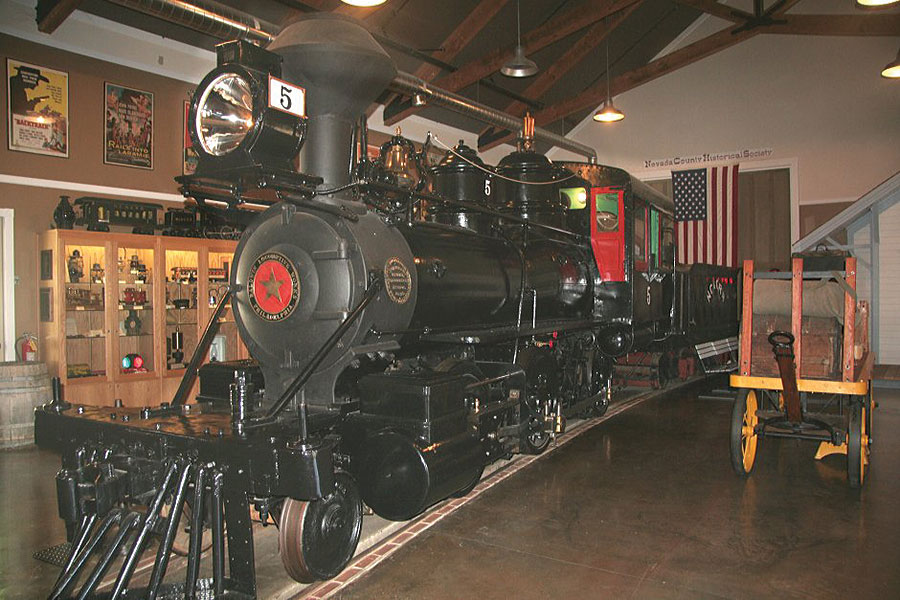 Places To Visit To Learn About Trains
Railroad Park Resort
100 Railroad Park Rd. Dunsmuir, CA.
www.rrpark.com
Lodging: (530) 235-4440; Restaurant: (530) 235-4611
Lodging open year-round. Restaurant open October – December, Fri., Sat. and Sun.; and April – September, Wed. ? Sun. Closed Jan ? March.
Want to spend the night in a caboose? What about enjoying a chef-cooked dinner inside a vintage railroad car? The Railroad Park Resort, opened in 1969, takes you back in time to Dunsmuir's glorious railroading days with a collection of train cars from all around the country that have been turned into a hotel and restaurant.
Accommodations include cozy cabooses for two as well as family cabooses the kids will love, four vintage cabins, and a boxcar honeymoon suite. RV parking and tent camping are also available. The Dinner House and Lounge includes two cabooses and two dining cars surrounding a dining floor area, and also features antique cars, tools and photographs, as well as a hand-built scale replica of a Southern Pacific Cascade passenger train. There are 22 lodging cabooses on site, a 1929 Willamette Shay train engine (one of only four left in the world!), and a Wells Fargo passenger car built in 1893.
Dunsmuir Railroad Depot Museum
5750 Sacramento Ave., Dunsmuir, CA.
www.dunsmuirdepot.com
(530) 235-0889. dunsmuirdepot@gmail.com.
Open April – October on 3rd Saturdays, 10am – 2pm.
Closed during winter Nov. ? March.
This small seasonal museum features train pictures and memorabilia, along with other artifacts of the area. Train buffs can relive the golden age of railroads in Dunsmuir, once a major railroading hub of over 5,000 residents. In its Central Pacific (and later Southern Pacific) railroad yard, locomotives were added to assist trains over the grade to the north, and there was a roundhouse to repair steam engines. Don't miss a stop at the Dunsmuir Railroad Depot Museum when it reopens next April. For researchers (viewed by appointment), the museum houses the Southern Pacific Shasta Division archives, with thousands of maps, photographs, drawings and other formal documents that tell the story of economic growth along the north-south rail line from the late 1800s. Mark your calendars for National Train Day at the Depot every May, and buy your favorite pies at the annual Pie Social, a museum fundraiser on the Saturday of Memorial Day weekend.
Paradise Depot Museum
5570 Black Olive Dr., Paradise, CA.
www.goldnuggetmuseum.com/depot_museum.php
(530) 872-8722. Open 12 – 4pm, Saturdays and Sundays
Situated on the grounds of Paradise Community Park, the Paradise Depot Museum features a full-sized restored caboose in addition to its star attraction: a 30-foot working HO gauge model of the Butte County Railroad. Kids will have a blast running the button-operated model that represents the 33-mile rail line that ran between Chico and Stirling City. The museum is open Saturdays and Sundays. The depot was originally built in 1904 by the Diamond Match Company to service its Butte County Railroad, which carried lumber from its saw mill in Stirling City to the match factory in the town of Barber (now part of Chico). The railroad also carried passengers until 1937, and with other rail traffic diminishing, the depot was closed in 1960. Paradise residents initiated the depot's refurbishment, and the museum opened in 2007.
California State Railroad Museum
125 I St., Sacramento, CA. (916) 445-6645.
www.csrmf.org
Open daily 10am – 5pm, excluding holidays.
Located in downtown Sacramento, the California State Railroad Museum features 21 restored locomotives and cars along with exhibits on California's rich railroading history. Check out the Pullman-style sleeping car, visit a dining car filled with railroad china, and tour a Railway Post Office that visitors can actually step aboard. Or buy your tickets for various train rides available throughout the year, including summer excursion train rides along the Sacramento River (April through September), Spookomotive train rides on weekends in October, and an hour-long train ride to the North Pole on the Polar Express in November and December (already sold out for 2014!).
Medford Railroad Park
799 Berrydale Ave., Medford, OR.
www.southernoregonlivesteamers.com
(541) 582-3912.
Open April ? October on 2nd and 4th Sundays, 11am – 3pm.
Five local railroad clubs work together to operate the Medford Railroad Park. The unique seven-acre site features full-size cars, a caboose, a hopper car, a locomotive, an HO scale model track and trains, a working telegraph system to send and receive telegrams inside the park, and an operating outdoor Garden Railway. The Southern Oregon Live Steamers railroad club offers free train rides to the public on the second and fourth Sundays of the month, April through October, that will take you through the beautifully manicured park that includes bridges, waterfalls, tunnels and hills on a variety of diesel and steam locomotives. Children will love the kid-friendly Thomas the Train Engine loop led by Thomas and Percy that encircles the Garden Railway. Train enthusiasts can also reserve the Railroad Park Pavilion for birthday parties!
Nevada County Narrow Gauge Railroad Museum
5 Kidder Ct., Nevada City, CA.
www.ncngrrmuseum.org
(530) 470-0902.
Open May – October, Fri. ? Tues., 10am – 4pm; and November – April, Sat. & Sun., 10am – 4pm.
The Nevada County Narrow Gauge Railroad Museum is dedicated to the preservation of local transportation history and artifacts from the narrow gauge railroad era. Visitors are offered a docent-led historical tour of the museum, rail yard, and restoration shop. See Engine 5, an 1875 Baldwin that's hauled lumber, passengers and freight, then was a movie engine at Universal Studios in Hollywood. See wooden rail cars and much more. School and group tours available by appointment. Admission is free.
Western Pacific Railroad Museum
700 Western Pacific Way, Portola, CA.
www.wplives.org
(530) 832-4131.
Open 10am – 5pm, May ? September. Closed during winter.
Kids can get their hands dirty at the Western Pacific Railroad Museum in Portola. Sit in the engineer's seat of the UP 6946, the largest diesel locomotive ever built. Tour vintage passenger cars to get a taste of rail travel before Amtrak. Climb aboard a restored caboose, or tour a variety of freight cars and other locomotives when visiting this museum, located on the site of the former Western Pacific Portola Diesel facility. Or for the more daring, rent a vintage diesel locomotive to operate on the museum grounds – with the help of a private instructor, of course. Plus, train rides and rides on locomotive cabs available.
Upcoming Train Event/s
Ride the Miracle Express, Polar Express and Frozen Express
3476 Smith Ave. , Biggs, CA.
Max's Miracle Ranch offers holiday-time activities that include rides on their vintage 24-gauge small-rail logging train, Maxamillian No. 8. Built by Maker Locomotives in the 1940s, the train has been lovingly restored and is complete from engine to caboose. During the annual Christmas Light Extravaganza held Nov. 25 – Dec. 25 (10am-8pm), ride the "Miracle Express" on weekdays for $3 per person. Visit with Santa on weekends (F/Sa/Su) Each Friday and Saturday, ride the "Polar Express"; on Sundays, ride the "Frozen Express." Polar and Frozen rides are $10 per person – call to reserve your spot as these sell out. December 6 at the ranch is Miracle Night, honoring young ranch visitors who have struggled with debilitating illnesses. Miracle Night is open to all who want to experience this heart-felt evening. Entrance and parking to the events are free. Christmas trees sales on site help support the ranch and the children and families it serves. For more information visit www.maxsmiracles.org or call (530) 354-7168.
Rogue Valley Railroad Show
Medford Armory, located at 1701 South Pacific Highway., Medford, Oregon.
Saturday, Nov. 29 (10am to 5pm) and Sunday, Nov. 30 (10am to 4pm).
Don't miss the 37th Annual Rogue Valley Railroad Show Thanksgiving weekend! The event features model railroad displays and historic railroad exhibits as well as a swap meet, door prizes and raffles. Thomas and Percy (favorite character trains) will be there! Admission is $5 for adults, $1 for children 6 to 12, and free for children 5 and under. Proceeds benefit Medford Railroad Park. For more information, call
(541) 621-3002, or visit www.rvmrc.net.
Nevada County Narrow Gauge Railroad Museum Christmas Celebration
Sat. Dec 6 (10am-3pm). 5 Kidder Ct., Nevada City, CA.
This annual event draws hundreds of children to the brightly decorated museum for an opportunity to tour the museum, visit with Santa Claus and take a photo with him in front of a real train engine. Celebrating children, this is chance for families to enjoy old-fashioned fun at the museum. There's a gift for each child and door prizes too. Free entry. Find more information at www.ncngrrmuseum.org or call (530) 470-0902.