© Lisa Shara; Published at North State Parent.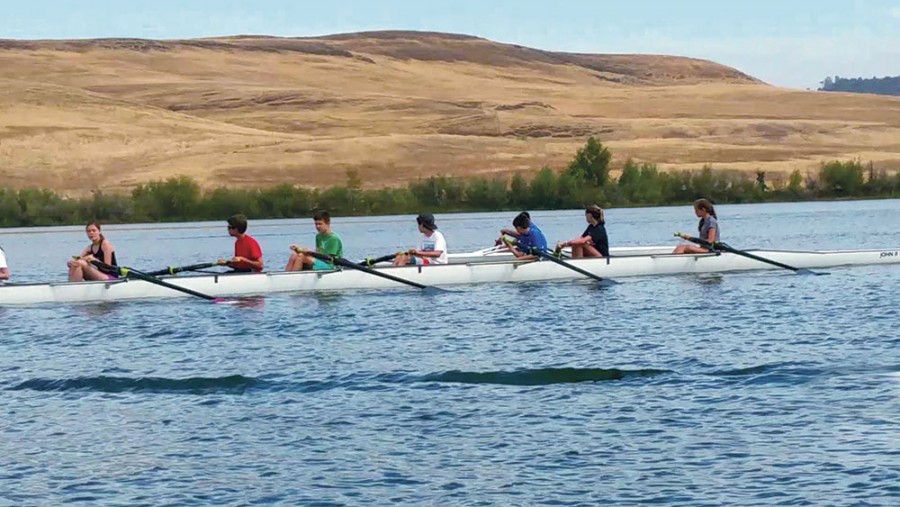 Jade Bennett, 12, and Jordan Bennett, 13, were in for a big surprise when they signed up for a recent rowing camp held at Forebay Aquatic Center in July. Their mom, Julee Bennet, says: "I had to encourage them to try the sport out. They didn't really know anything about rowing, and had assumed they wouldn't like it. However, from the start of camp, they had an amazing time and were more than eager to go back each day. On the last day, they both jumped in the car all excited and said, 'Mom, we are totally doing this next summer! This rowing thing is awesome!'"
[sws_pullquote_right]It's a great art, is rowing. It's the finest art there is. It's a symphony of motion and when you're rowing well, why it's nearing perfection. You're touching the divine. It touches the you of you's, which is your soul." –George Pocock [/sws_pullquote_right] "We want participants to be safe on the water and have a great time at camp being a kid," says Nate Sandoval, an assistant rowing coach for California State University, Chico, and summer manager at Forebay Aquatic Center. "Rowing builds discipline, focus and technique, and it's fun because you are helping each other move fast in a totally unique environment. In camp, team-building mixes with meeting new friends. It's a fun way to learn a new sport."
As an extension of the camps, Feather River Rowing Club is working on starting a juniors team for middle and high schoolers. The focus will be on discipline and unity through conditioning and eventual competition. "I think it would be an awesome experience for teens to experience a competitive rowing team at their age," says Julee. "It is a sport that could open many doors for youth today."
"I've heard that for girls, this sport has many unclaimed scholarships at the college level and a lot of coaches are offering scholarships to walk-on students with no experience," Julee adds. "If teens can get the opportunity to learn and to compete prior to the college level, it would give them a huge advantage over others trying to obtain a scholarship for college."
Julee's daughter Jordan shares: "At first I was just doing the rowing camp for my mom because she wanted me to not just rely on one path towards my future but to have many paths. I wasn't really looking forward to it, but the first day I was instantly hooked. Now, instead of just a possibility of a basketball or a volleyball scholarship towards college, if I work hard, there may also be a chance at a rowing scholarship too!"
American rower Megan Cooke Carcagno began rowing in her high school sophomore year. "I was a very good runner, yet tall like a ball sport athlete," she says. "My natural length and determination made me the perfect candidate for rowing." She attended University of California at Berkeley, earned first team All-American honors in her junior and senior years, and went on to compete on several US National teams.
While an injury set Megan back during the 2008 Senior Women's National Team's bid towards the Olympics, her highest moment in rowing was capturing Gold and setting several world records in 2006 in the Women's 8 boat, including the FISA World Championships, Henley Royal Regatta, and Head of the Charles (the world's largest annual regatta).
"The main benefits of rowing are an immediate increase in power, flexibility and aerobic conditioning," Megan says. "It's also a highly social sport, set in nature, which makes for the ultimate stress-reducing experience."
After officially retiring from the US National team in 2008, Megan turned her attention to coaching. She says, "I felt I wanted to give back and help others fall in love." After spending a number of years as an assistant rowing coach for the University of Wisconsin Badgers, Megan was recently selected to be Head Coach at Duke University, where she's moved with her husband Simon, a fellow National Team rower, and their two young boys. "I could not be more thrilled about the path that rowing has provided," she says.
"Rowing in high school should be challenging, yet fun," advises Megan. "Most parents find the investment well worth the pleasure and self-esteem it brings their children."
"I recommend that everyone try rowing at least once in their lifetime," says Nate. "There is a special connection that everyone shares with the water. There's nothing quite like the feeling of the shell gliding on a patch of glassy water, or a sunrise that seems to have been meant only for you and your crew. When everyone in your boat is pulling for everyone else, when you get to share the connection with other people in your boat, doing something that very few people have a chance to do, it's very special – it's a magical connection. And Forebay is one of the most beautiful places to row."
Camp participant Jade says, "I went from not knowing anything about rowing to absolutely loving it! Hands down, I will be participating in rowing every summer!"
You can catch the rowing passion too. Call Forebay Aquatic Center to learn more about rowing camps and the upcoming juniors rowing team, which will run year-round. Kids can pick it up in fall or spring, says Nate. Scholarships are available and equipment is provided, thanks to community partnerships.
The Forebay Aquatic Center is open to the public 10 a.m. to 6 p.m., Wednesdays through Sundays, May through September. It's located northwest of Oroville on Garden Drive off Highway 70. Call (530) 774-7934 or visit www.forebayaquaticcenter.com for more information.