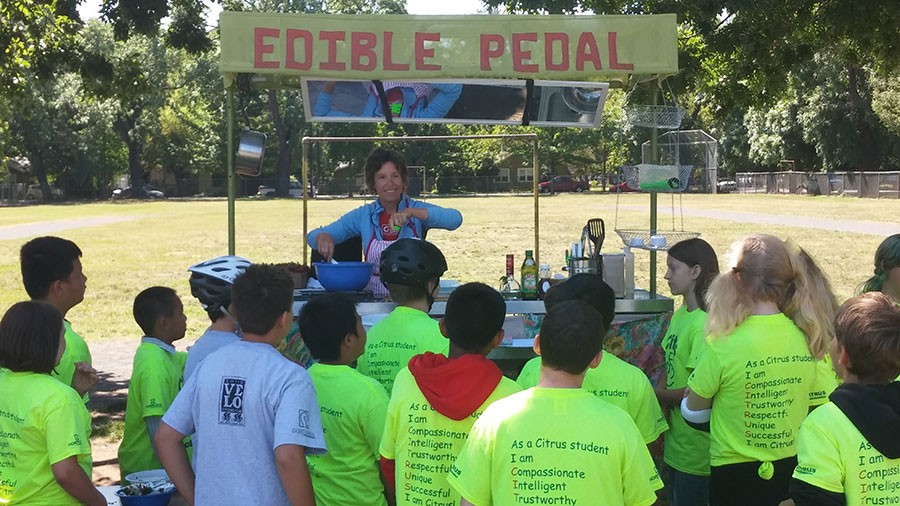 Looking for new ideas for preparing healthy foods? Keep an eye out for a pedal-driven kitchen at local farmers markets and community events in Chico. Called the Edible Pedal, the mobile bike kitchen provides cooking demonstrations using fresh, local foods.
Sitting on a modified Pedicab base, the bike kitchen is equipped with stainless steel counters, two sinks, a fresh water reservoir, waste-water tanks, shelves, cooking gear, and a stove, oven and propane tank. A canopy and demonstration viewing mirror provide shade and visibility for those watching the chef create.
Weighing approximately 650 pounds, depending on the energy of the rider, the Edible Pedal can cruise at speeds up to 15 mph!
The project is operated by Cultivating Community North Valley (CCNV), a nonprofit organization that provides education, outreach and resources to students, small-scale farmers, under-served communities, and those who are interested in participating in the growing local food movement. CCNV is supported by a Specialty Crop Block Grant of the U.S. Department of Agriculture, awarded to CSU, Chico's Research Foundation and directed by Dr. Lee Altier.
The mobile kitchen's cooking demonstrations focus on seasonal, fresh ingredients with an emphasis on locally-grown produce. Recipes highlight ease of preparation and flavor; Edible Pedal's delicious demonstration recipes include Thai-spiced green beans, butternut squash & black bean tacos, "Bunny Rabbit Delight" (featuring cabbage, carrots and mint), and apple salsa. Uses for more unusual produce, such as kohlrabi, are also demonstrated. Demo viewers can try a sample of the food and take home the day's recipe.
Find the bike kitchen year-round on Wednesdays in Chico, alternating between the North Valley Farmers Market, 8am-noon at the North Valley Plaza Mall parking lot on Pillsbury Road, and the Southside Farmers Market, 3-7pm at 16th and Normal Streets.
For a more personalized experience, Edible Pedal Bike Kitchen is available to visit community and school events in Chico. The kitchen is also available to rent for your own cooking demos. Call (530) 519-2646 or visit the Edible Pedal Facebook page (www.facebook.com/bikekitchens) for more information … and to find delicious recipes!