A prickle of porcupines? A lounge of Iguanas? A delightful new children's book, featuring whimsical yet scientifically accurate illustrations of animals, is written in a fun A-Z format that teaches the names of animal groups … like "a zeal of zebras."
Written by local author Kristen Lape, My Love is bigger than a Rhumba of Rattlesnakes is targeted for ages preschool through elementary school – and is likely a fun read for any age.
Lape (Lape rhymes with grape) grew up in Butte County and spent her initial college years at California State University, Chico, before moving to Santa Cruz where she serendipitously met Sylvie-Marie Drescher, Rhumba's talented illustrator. Drescher's animal illustrations, showing animals in their natural habitats, were a perfect fit with Lape's book idea.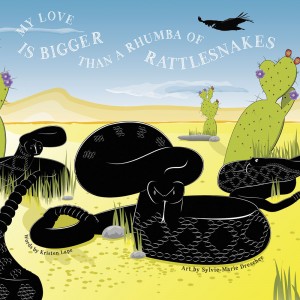 Lape's idea for Rhumba was first inspired by her two sons. "When they were small, we read a lot of books about animals and spent a lot of time outdoors in nature." In her work as an elementary school counselor for Chico Unified School District, Lape has often been reminded of how much children love animals. And she has a related concern: "A lot of the world's animals and habitats are being destroyed," Lape says. "I think about that too." Continue reading →